Dr. Anas El-Aneed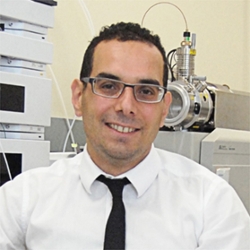 Dr. El-Aneed is currently an Associate Professor at the College of Pharmacy and Nutrition, University of Saskatchewan. He obtained his B.Sc. in Pharmacy and Pharmaceutical Chemistry in 1997 from Tishreen University, Syria.  He then completed a M.Sc. in 2003 in Pharmacy and Ph.D. in 2007 in Biochemistry from Memorial University of Newfoundland.  He was awarded the Governor General Gold medal for his Ph.D. thesis. He worked as Pharmacy Research Specialist at the Newfoundland and Labrador Center for Health Information 2006-2007 and joined the University of Saskatchewan in January 2008.  In 2012, he completed an MBA degree from the University of Saskatchewan. His main area of research is focused on the use of different mass spectrometry platforms for the qualitative and quantitative analysis of small organic compounds, with recent emphasis on metabolites, pharmaceuticals and lipid-based drug delivery systems.  His funding sources are NSERC (Natural Science and Engineering Research Council of Canada), SHRF (Saskatchewan Health Research Foundation) and CFI (Canada Foundation for Innovation). He is currently the co-chair of the Saskatchewan Mass Spectrometry User Group.
Dr. George Katselis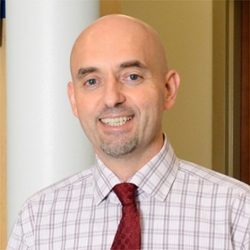 Dr. George Katselis is an Assistant Professor in the Division of the Canadian Centre for Health and Safety in Agriculture (CCHSA) in the Department of Medicine, College of Medicine at the University of Saskatchewan.  George moved from his hometown Thebes in Greece to Halifax, Nova Scotia, Canada to study Instrumental Chemical Analysis/Analytical Chemistry at Dalhousie University earning a B.Sc. with Honours (supervisor: Dr. Louis Ramaley).  After a brief stay back in Greece, he returned to Canada to pursue graduate studies at the University of Saskatchewan where he earned a M.Sc. in Analytical Chemistry of Natural Products (supervisor: Dr. Branka Barl) and a Ph.D. in Pharmaceutical Sciences / Analytical Chemistry (supervisors: Dr. Dennis Gorecki & Dr. Branka Barl).  It was during his Ph.D. studies that George discovered his true passion in Mass Spectrometry.  In 2005, he moved to Los Angeles, California, USA and the City of Hope Medical Center to do his Post-Doctoral Fellowship in Mass Spectrometry (MS)-based Proteomics under the mentorship of Dr. Terry Lee, a modern era mass spectrometry pioneer.  In 2010, he returned to the University of Saskatchewan to manage the Mass Spectrometry lab and in 2012 he joined the Department of Medicine and CCHSA in his current capacity.  In 2014, he established, and currently leads, the CCHSA Mass Spectrometry lab which is part of the Health Sciences Core Mass Spectrometry Facility.
Dr. Katselis' areas of research are in Functional and Structural Proteomics and the Biomedical Aspects of Human Health and he employs Mass Spectrometry-based techniques for: Clinical Proteomics, Metabolomics, and Lipidomics; Biomarker Analysis (Discovery and Validation); Structural Characterization of Proteins (e.g. Protein-Protein Interactions, Post-translational Modifications of Proteins); Environmental, Agricultural, Rural and Occupational Health Applications; Pharmaceutical Analysis; Analytical Instrumentation Chemistry.
Dr. Randy W. Purves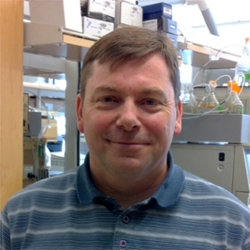 Dr. Randy Purves is a Research Scientist at the Canadian Food Inspection Agency (CFIA) and an adjunct professor in the Department of Chemistry and the College of Pharmacy and Nutrition at the University of Saskatchewan. He obtained his B.Sc. Honors (with distinction) in Applied Chemistry at the University of Calgary in 1992. His Ph.D. in Analytical Chemistry at the University of Alberta involved developing electrospray mass spectrometry instrumentation under the supervision of Prof Liang Li (conferred 1997). Dr. Purves has nearly 30 years of experience in bioanalytical mass spectrometry and was a leader in recognizing the importance of the complementary nature of ion mobility devices for use with mass spectrometry. Dr. Purves co-founded Ionalytics in 2001 and was an integral part of the Ionalytics team that produced the first commercial ion mobility device (FAIMS) for use with mass spectrometry (2003). After the acquisition of Ionalytics by Thermo Fisher, Dr. Purves has continued to collaborate with Thermo Fisher on further developing FAIMS.
Dr. Purves's expertise involves applying mass spectrometry based solutions to solve complex analytical problems across several disciplines. His research interests can be broadly divided into two main areas. The first area involves his continued research into advancing FAIMS, primarily for use in small molecule quantification in food safety. Dr. Purves collaborated with Thermo Fisher on improving the FAIMS interface for higher gas intake mass spectrometers, which resulted in the recently released FAIMS Pro. Dr. Purves has been particularly interested in using FAIMS for detecting veterinary drug residues in tissues. Often these residues are low molecular weight analytes present in complex matrices, which are adversely affected by high chemical background noise, and therefore amenable to FAIMS.
Dr. Purves's other main research area involves untargeted metabolomics. One area in which this research is currently being used is to better understand biochemical pathways of pulse crops to help breeders improve nutritional value. A collaboration between the CFIA and the College of Agriculture and Bioresources at the University of Saskatchewan is an integral component of this research. Dr. Purves is also using an untargeted approach to investigate unusual or unexpected metabolites of veterinary drug residues. This is especially important for banned, or not approved substances, in which the lowest detection limits possible are desired.
randy.purves@usask.ca
Support Staff
Dr. Paulos Chumala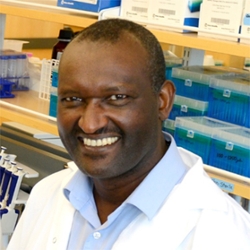 Dr. Chumala is a research technician at the College of Medicine Core Mass Spectrometry facility, University of Saskatchewan. He received his B.Sc. (1986) and M.Sc. (1991) in chemistry from the Addis Ababa University and a Ph.D. (2005) in organic chemistry from the University of Saskatchewan.  Dr. Chumala operates and maintains the Agilent 6550 iFunnel Q-TOF equipped with LC-Chip Cube interface and the Agilent 6460 Triple Quadrupole (QQQ) equipped with a 1260 LC.  In addition, he is responsible for receiving samples, preparing samples for mass spectrometry analysis, and analyzing data for the identification, characterization, and quantification of compounds using a variety of Agilent software.
Jeremy Marshall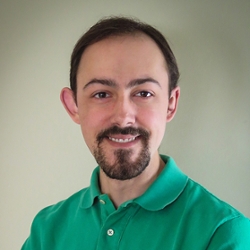 Jeremy obtained his B.Sc. and M.Sc. in Biochemistry from the University of Saskatchewan.  He is a research technician with the Department of Plant Sciences in the research group of Dr. Albert Vandenberg, and works with the Thermo TSQ Altis MS.  Current research projects include plant metabolite quantification and protein identification in pulse crops including faba beans and lentil.  He has previous research experience with DNA purification and mutagenesis, protein purification, protein crystallography, and protein X-ray crystallography data collection, processing and structure refinement.  In addition to scientific writing, Jeremy also writes science-fiction and fantasy novels.
James Matheson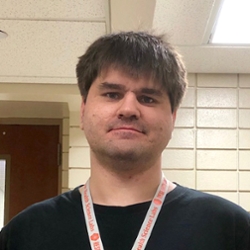 James works as a technician with CCHSA with Dr. Katselis in the facility.  He obtained his technical diploma in Biosciences from Saskatchewan Polytechnic following completion of a BSc in Biochemistry from the University of Regina. 
Deb Michel
Deborah obtained a BSc in Chemistry from the University of Saskatchewan and is a technician for both mass spectrometer and flow cytometer in the College of Pharmacy and Nutrition.  She has extensive experience in bioanalytical validation/quantitation and animal studies working in a Good Manufacturing Practice facility.  Prior to joining the U of S, she worked for 13 years in both industrial and academic settings. Deborah has 14 publications in peer reviewed journals and a large number of conference proceedings and abstracts. She continuously supplements her expertise by participating in workshops and training sessions regarding mass spectrometry and flow cytometry. Her responsibilities in the Core Mass Spectrometry suite are to maintain the AB Sciex QTRAP 4000 and the Agilent 1200 HPLC.  She is responsible for training and guidance of new and existing users to this equipment.  She has in-depth experience in LCMS (including development, validation and sample analysis) and small molecule characterization.  She is also familiar with complementary biological and analytical techniques high-resolution microscopies, spectroscopy techniques, biological assays and synchrotron techniques, including data processing.
Heather Neufeld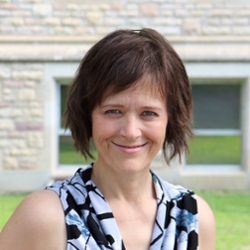 Heather Neufeld is the Laboratory Manager for the 2D10 and 2D40 Health Sciences Laboratories and works with the Office of the Vice Provost Health.  She obtained her MSc from the University of Saskatchewan and has 18+ years of experience working in analytical chemistry and biochemistry laboratories. Past research included genetic research at the National Research Council (Saskatoon) and a variety of biochemical, genetic and protein analyses together with histology and immunohistochemistry staining for researchers at the Department of Pathology and Laboratory Medicine at the University of Saskatchewan and the Canadian Immunohistochemistry Quality Control (cIQc) program. She is currently interested in laboratory safety, error reduction, Six Sigma methodology and QC method optimization. She supports the group to ensure laboratory safety through training and facility supervision.
Brooke Thompson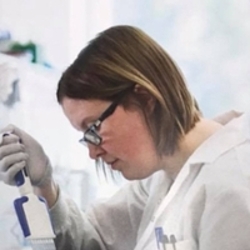 Brooke obtained a technical diploma in Biotechnology from SIAST and is a laboratory technician/manager for the National Agricultural Industrial Hygiene Laboratory. She is responsible for training users on the shared equipment in 2D10 including the plate readers, centrifuges, PCR thermocyclers and the microbalance. She is also familiar with molecular biology and microbiology techniques, cell culture, ELISAs, (1, 3)-beta-D-Glucan and Endotoxin analyses. She also assists with sample preparation (e.g. compound extraction, protein digestion) for MS experiments.
Dr. Haixia Zhang
Dr. Haixia Zhang is a Research Scientist in the research group of Dr. Albert Vandenberg, the Crop Development Centre at the University of Saskatchewan. She obtained her B.Sc. in Chemistry and M.Sc. in Analytical Chemistry in China. In 2002 she enrolled at the University of Western Ontario to pursue her Ph.D. degree in Analytical Chemistry.  Her thesis focused on phosphopeptide enrichment and characterization using capillary electrophoresis and MALDI-MS.  In 2008, she moved to the Vanderbilt University School of Medicine, and worked on human cancer biomarker discovery using shotgun and targeted proteomics.  In 2010, she was recruited by the National Research Council to lead the proteomics research/fee-for-service in the mass spectrometry facility in Saskatoon, and in 2016, she joined the UofS to assist the pulse crop breeding program by developing multiple analytical LC-ESI MS methods.  
Her current research projects with Dr. Albert Vandenberg include targeted plant metabolite quantification and global protein profiling from pulse seeds. Her duties include overseeing CDC's LC and mass spectrometer, and providing training to research personnel on instrument operation, sample preparation and data analysis.
Haixia had worked on diverse research projects which related to human, plant, insects, fungus and bacteria, and have good experiences in different –omics research area such as proteomics, targeted metabolomics and lipid profiling.
Contact: haixia.zhang@usask.ca; phone: 306-966-2933