The Core MS at the U of S
Vision
To be a leading center for the application of Mass Spectrometry to the Life Sciences.
Mission
To support U of S Life Science research activities involving Mass Spectrometry.
The Core Facility
The Core MS Facility works to support research in which mass spectrometry plays a major role.  With recent technology advancements, mass spectrometry has clearly become a critical tool for use in the qualitative and quantitative identification of biologically relevant molecules.  As a consequence there has been an exponential growth of projects and applications with direct input coming from mass spectrometry.
Within the Core MS Facility, sophisticated instruments are housed for the analysis of compounds ranging from small organic molecules up to large proteins.  Ancillary to that direct application of mass spectrometry are expertise and equipment to aid researchers in their sample preparation and strategies around the appropriate use of MS technologies.  Instrumentation includes triple quadrupole mass spectrometers (Thermo-Fisher TSQ Vantage equipped with FAIMS, AB Sciex 4000 Q-trap, and Agilent 6460 QQQ), and a quadrupole time of flight hybrid mass spectrometer (Agilent 6550 iFunnel Q-TOF with chip technology).  Each of these systems are fitted with HPLC or UHPLC interfaces and capable of providing high level qualitative and quantitative data.
The Core MS Facility is supported by individual faculty and their research projects with additional support coming from the College of Medicine, the College of Pharmacy and Nutrition, and the Canadian Centre for Health and Safety in Agriculture (CCHSA).
Individuals wishing to utilize the resources within the Core MS Facility are encouraged to meet with the mass spectrometry team and discuss their individual needs.  Dependent upon research synergies and instrument time commitment, solutions can be collaborative and/or fee-for-service based.  Training is available on the operation of equipment, if appropriate, with access given to individuals dependent on the nature of the project and time commitments on individual instruments.
Mailing Address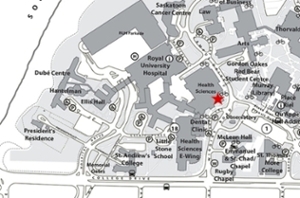 Core MS Facility
University of Saskatchewan
Box 26, 2D10 HSB, 107 Wiggins Rd.
Saskatoon, SK, S7N 5E5
Canada